My journey to mixing up kombucha cocktails began six years ago in a charming West Hollywood kitchen. It was there, amidst the green and yellow tiles straight outta the '60s, that I started brewing my own kombucha. I had become addicted to the drink's probiotic prowess years prior—once I got over the initial shock of the vinegary flavor. Who knows what set me on this curiosity quest to willingly grow—and drink!—bacteria in my own home, but it was a successful experiment that I've continued to this day. (Not counting that time I was in my first trimester and couldn't toss that blubbery-looking SCOBY fast enough, of course.)
My husband and I even tried brewing alcoholic kombucha during the pandemic. (Yes, brewing alcohol was my Pandemic Project. That and… quilting. It was a weird time.) The science of alcoholic kombucha is quite confusing, so I threw out the pH strips and we ended up "testing" the alcohol levels anecdotally. And by that I mean—drinking our latest brew on an empty stomach and asking each other, "Do you feel anything?" until one of us claimed we did. Again, a weird (if not kinda fun) time.
These days, we simply opt for kombucha in its purest form for what I might call the perfect mix-in. It's fizzy, it's fermented, it's flavorful—the three F's of a delicious cocktail ingredient. But first…
Can you mix alcohol with kombucha?
Yes, you can absolutely mix alcohol and kombucha. 'Booch makes for a delicious bubbly mixer, especially when you experiment with different flavors and liquor combinations. The slightly acidic, fruity fermented flavor pairs well with tequila, rum, gin, vodka, whiskey, and mezcal. It's an ingredient ripe for experimentation.
Are kombucha cocktails healthy?
While kombucha touts major health benefits thanks to its low sugar content alongside an array of antioxidants and probiotics, if you're adding alcohol to the mix then it's not exactly healthy. (Read up on how alcohol affects your gut.) However, kombucha is a superior option to sugar-laden, artificially flavored mixers any day. Curious to know more about alcohol and nutrition? Here's a deep dive into the reality about women and alcohol. TL;DR it's generally safe for women to consume one alcoholic beverage a day—and a kombucha cocktail is a delicious option.
3 Kombucha Cocktail Recipes
After much experimentation (it's a hard job, I know), I landed on three classic cocktail recipes with a kombucha twist. Read on for a fermented take on your faves: a Paloma, spicy margarita, and of course, a Moscow mule.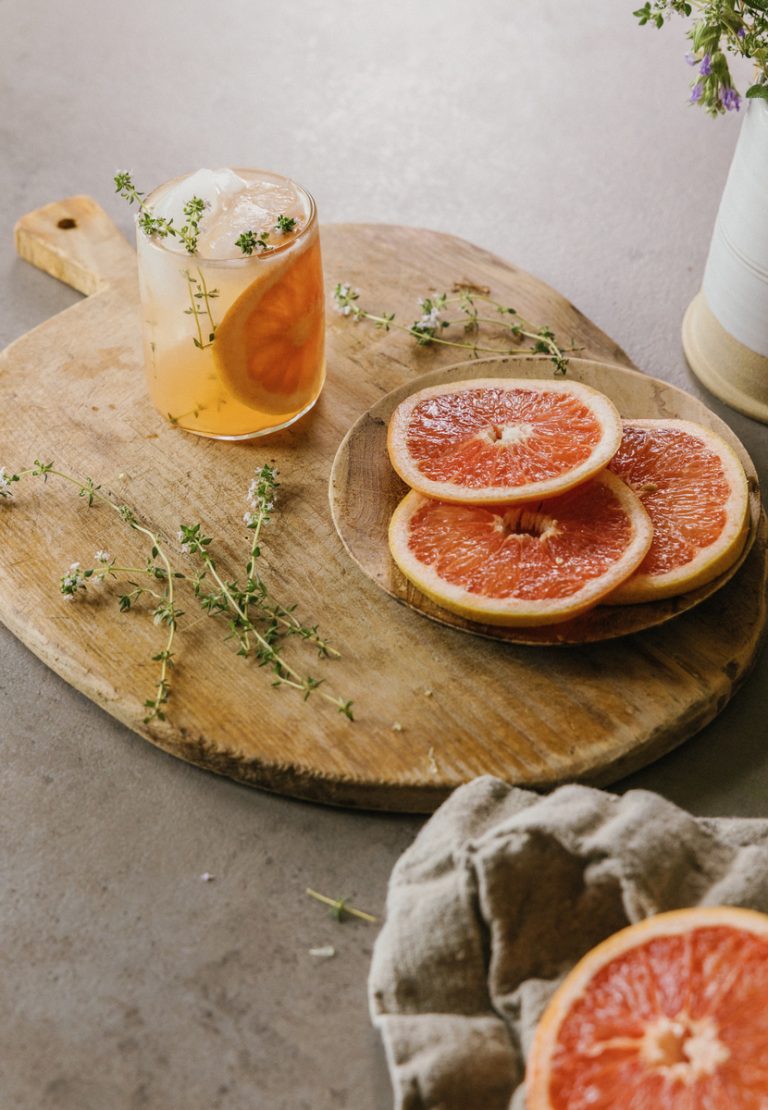 Kombucha Paloma Recipe
Ingredients:
2 ounces tequila
2 ounces fresh grapefruit juice, plus wedges for garnish
½ ounce lime juice
¼ ounce agave nectar
2 ounces original or grapefruit kombucha
Ice
Directions: In a cocktail shaker, add tequila, grapefruit juice, lime juice, agave nectar, and ice. Shake vigorously for 30 seconds. Strain and pour into a glass over ice. Top with kombucha. Garnish with a slice of grapefruit and rosemary. This is also delicious with smoked rosemary. Light a sprig of rosemary then cover with the glass for 30 seconds.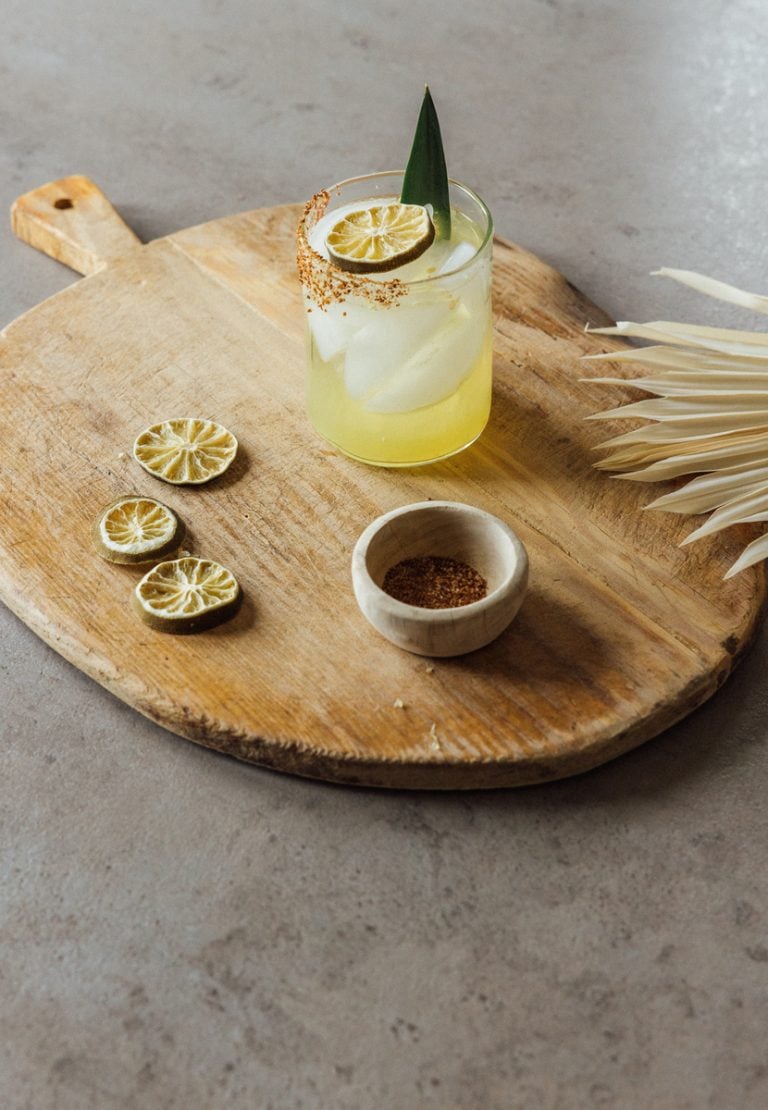 Spicy Kombucha Margarita Recipe
Ingredients:
2 ounces tequila
¼  to ½ sliced jalapeño
1 ounce agave nectar
1 ounce fresh lime juice
3 ounces pineapple kombucha
Directions: In a cocktail shaker muddle jalapeño then add tequila, lime juice, agave nectar, and ice. Shake vigorously for 30 seconds. Strain and pour into a glass over ice. Top with kombucha. Garnish with a pineapple leaf, dehydrated lime, and chili salt. Alternatively to the jalapeño, you can mix 1 ounce of Mike's Hot Honey with lime juice then shake with tequila and ice.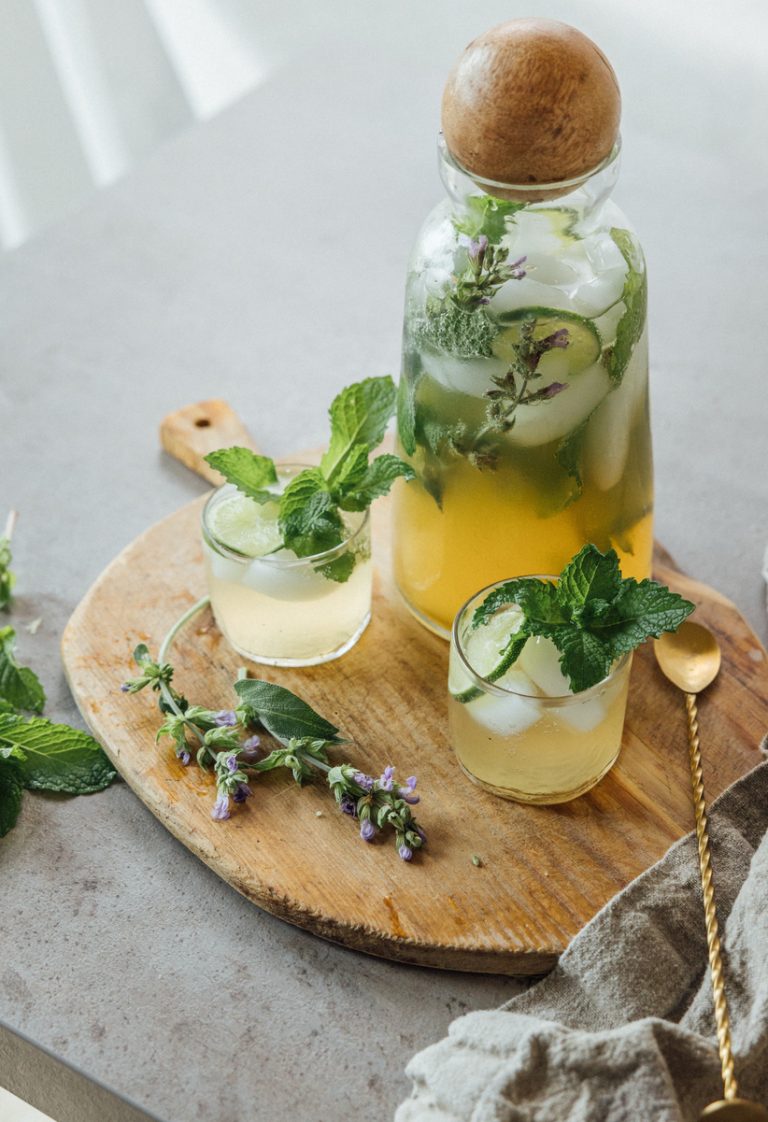 Kombucha Moscow Mule Recipe
Ingredients:
2 ounces vodka
1 ounce fresh lime juice
1 ounce agave nectar
4 ounces ginger kombucha
Ice, mint for garnish
Directions: In a glass or mug, mix vodka, lime juice, and agave nectar. Add ice and top with kombucha. Garnish with lime and mint. Note: you can also scale up to make this a batched cocktail.