There's been a big push in recent years to eat seasonally, and it's not hard to see why. Summer's strawberries and winter's leafy greens have so much more flavor (and nutrients!) than their out-of-season counterparts. While it's true that you can find asparagus on grocery store shelves year round, this spring vegetable is technically only in season from late April to June. I'm admittedly late to the game and have only recently begun to appreciate asparagus' amazing versatility. But when it comes down to it, it's hard to find a dish that the addition of this green doesn't make better—and the best asparagus recipes are all the proof you need.
From grilling skinny spears at the family barbecue to shaving plump asparagus stalks into salads, asparagus leaves you with plenty of room to experiment. When it comes down to it, you really can't go wrong with this naturally delicious veg. Keep scrolling to see how many ways you can take asparagus from ordinary to extraordinary. Of course, if you want to keep things simple and streamlined, asparagus will never let you down. And I'd love to know in the comments—what's your favorite way to cook asparagus?
Featured image by Suruchi Avasthi.
The Best Asparagus Recipes to Make This Spring
Why We Love It: If you aren't putting potatoes on your pizza, you're doing it wrong. This is the perfect pizza for spring, with its mix of greens, crunch veg (asparagus!), and creamy, delicious burrata. It's easy enough for a special weeknight meal and will be right at home at your Saturday night dinner party.
Hero Ingredient: Again, the potatoes bring the party. They lend sustenance to this pizza that's perfectly balanced by those spring greens and asparagus. I mean, when are they ever a bad idea?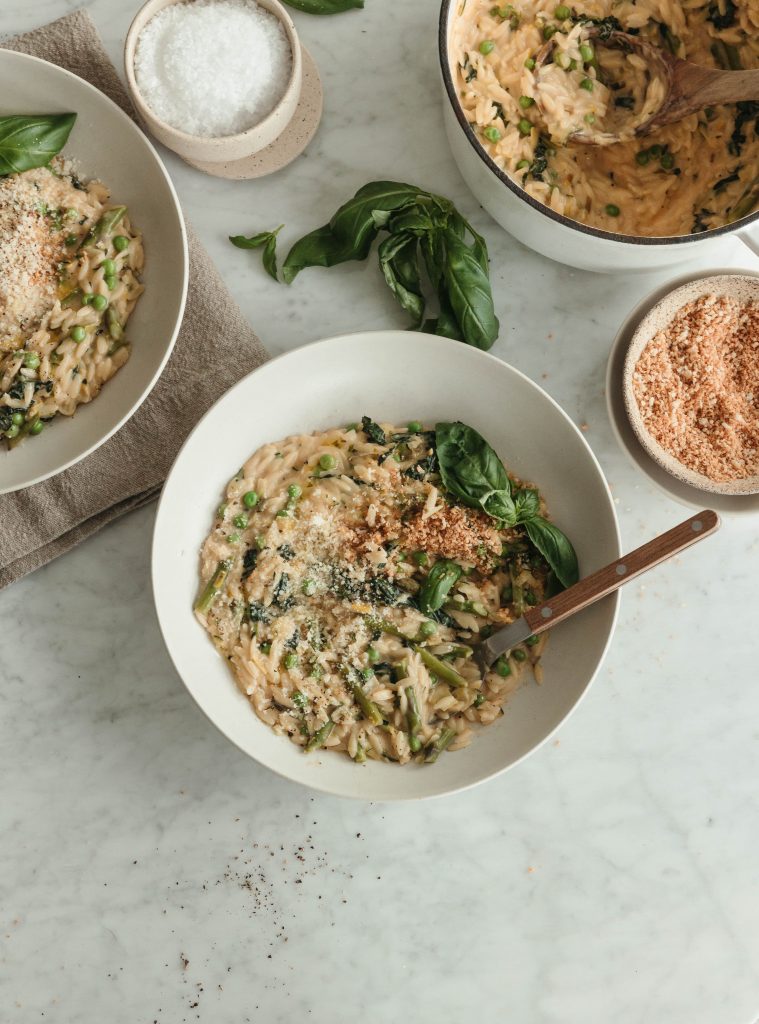 Why We Love It: Haven't cooked with orzo yet? It's time to get familiar. Contrary to popular belief, though it looks like rice, orzo is actually pasta. This cheesy, hearty one-pot meal is lightened up with the addition of seasonal veggies. In addition to asparagus, you have zucchini, leeks, peas, and kale to balance out all the heavy ream and parmesan.
Hero Ingredient: The freshest green peas, please.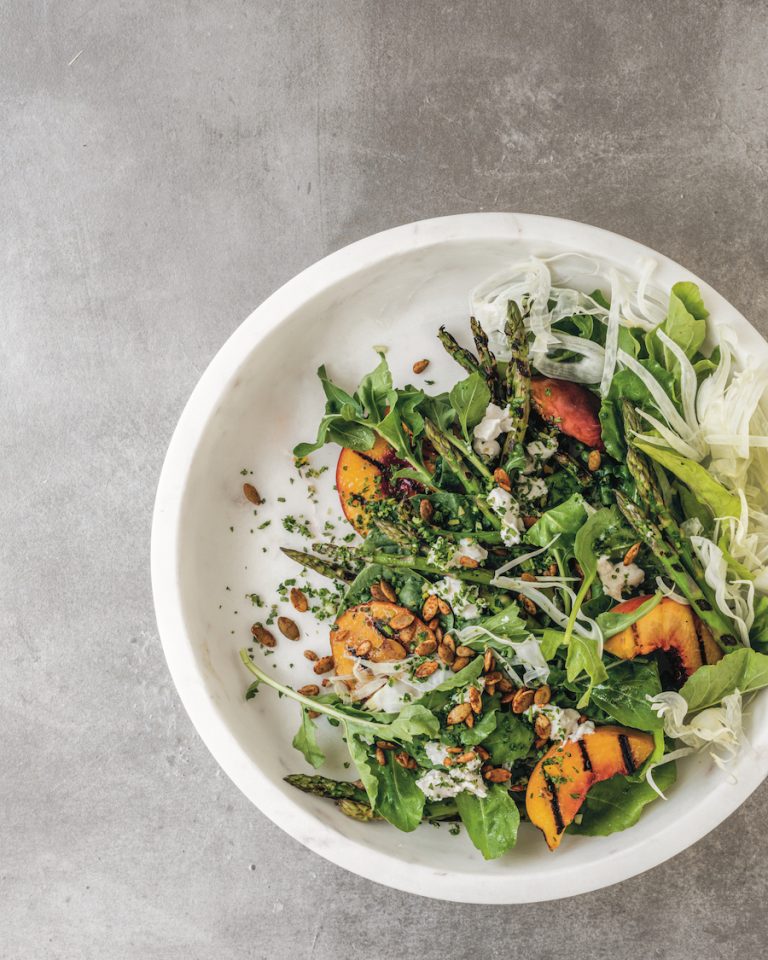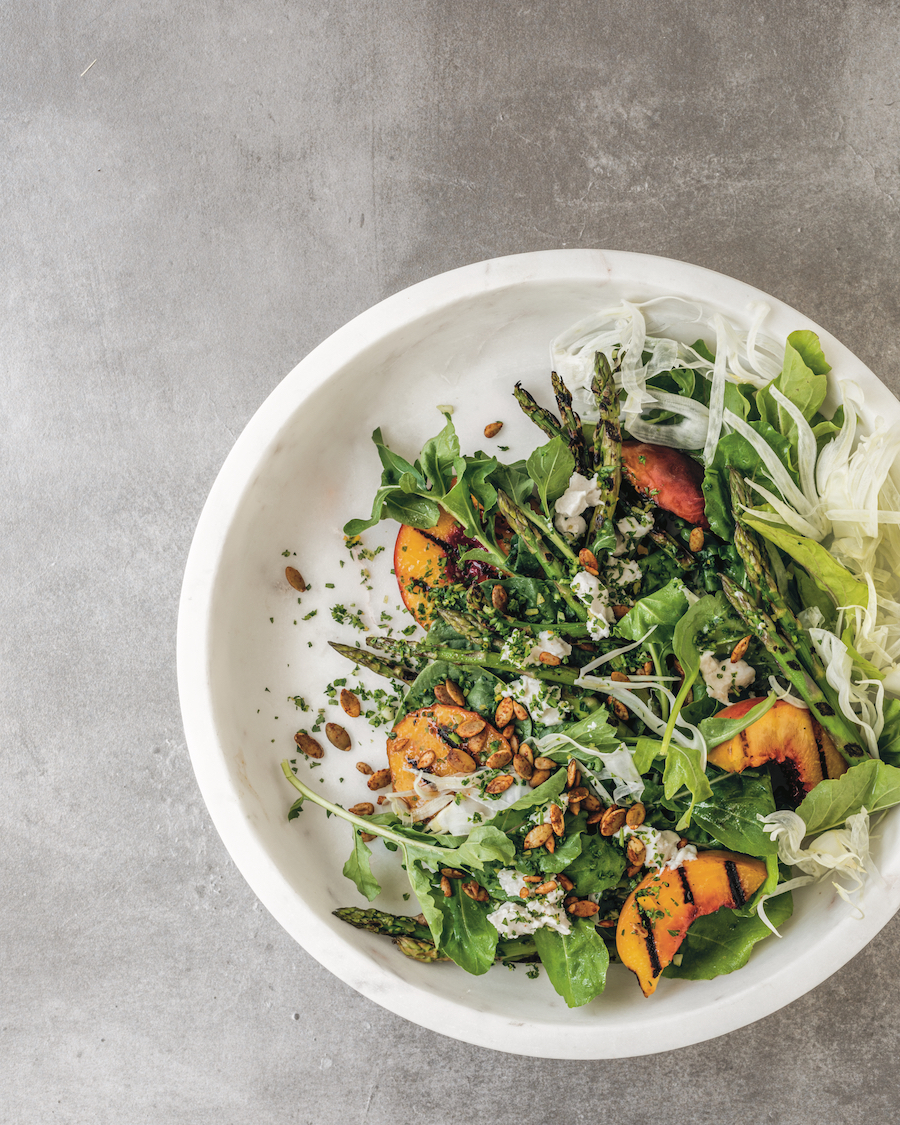 Why We Love It: This salad is the definition of fresh. Sweet peaches, bright lemon peel, blanched asparagus, and creamy cashew mozzarella make a perfect lunch.
Hero Ingredient: Goji chipotle dressing is the ideal mix of sweet and spicy.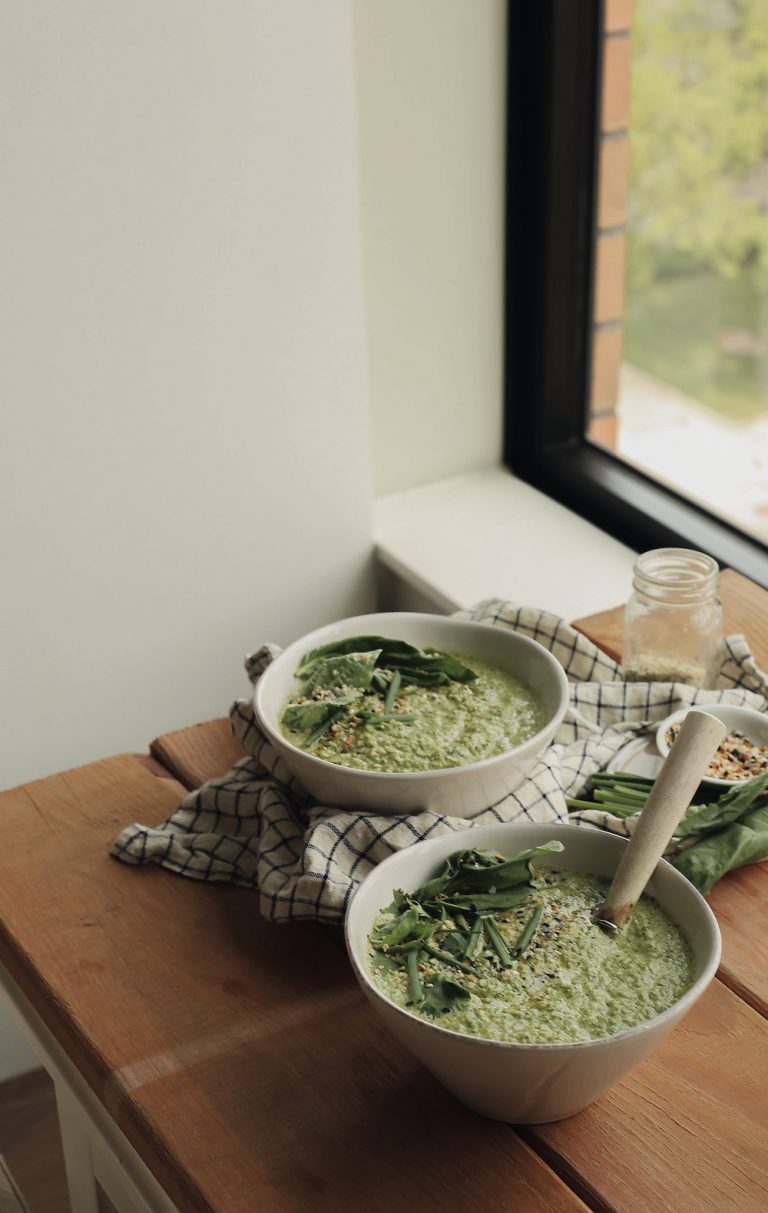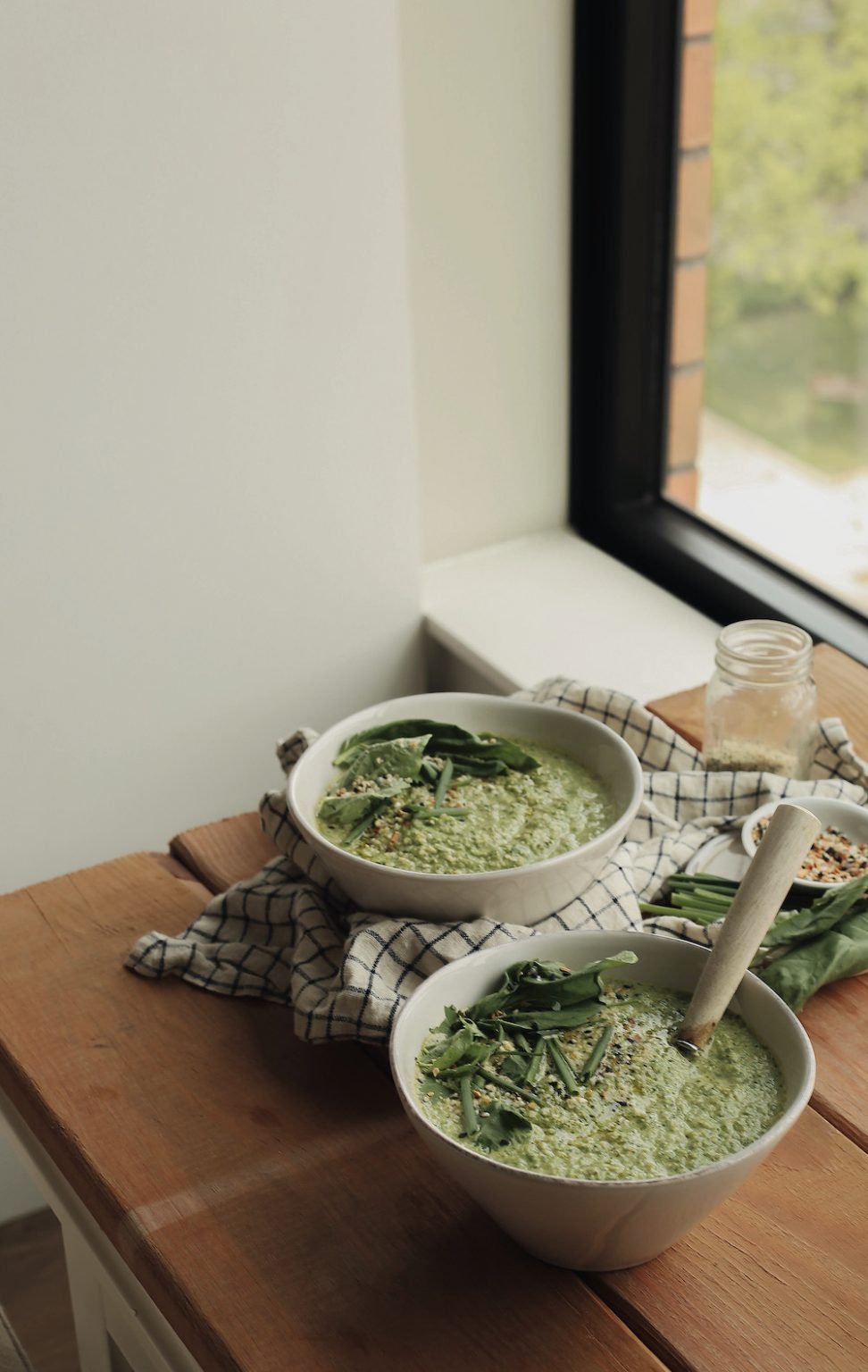 Why We Love It: We have a thing for soups at Camille Styles. They're an easy (and delicious!) way to pack a ton of nutrients into one delicious bowl. Plus, of course, most recipes are a breeze to make. If you've never thought of asparagus as a veggie to add to your soup, think again. And be sure to try this deliciously simple (and endlessly versatile) take.
Hero Ingredient: Soaked cashews bring body and creamy goodness to this virtuous soup.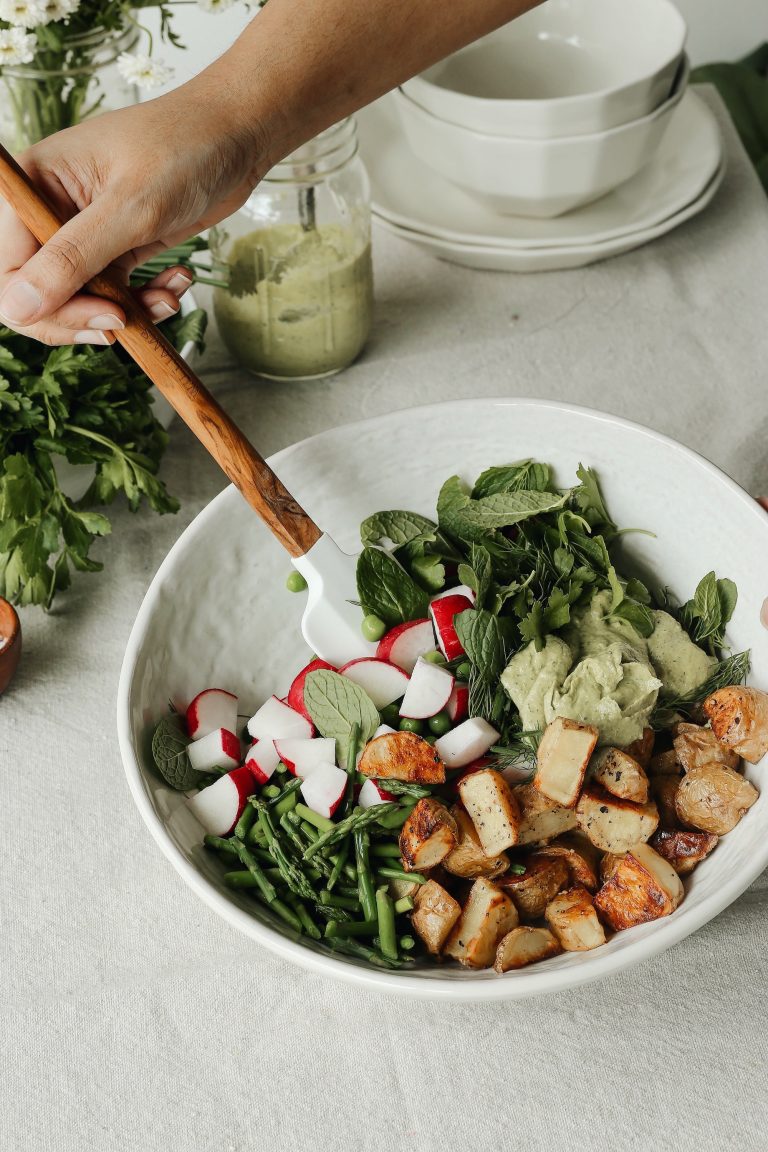 Why We Love It: This isn't your grandmother's potato salad (although we love a retro recipe). If you find yourself in a salad rut, working with what the season gives you is a good place to start. This salad packs plenty of bright flavor from the tahini-herb dressing and gets bulked up thanks to the baby Yukon gold potatoes. Consider yourself inspired.
Hero Ingredient: Mint, parsley, dill, chives—the herbs bring so much, it's hard to pick a favorite.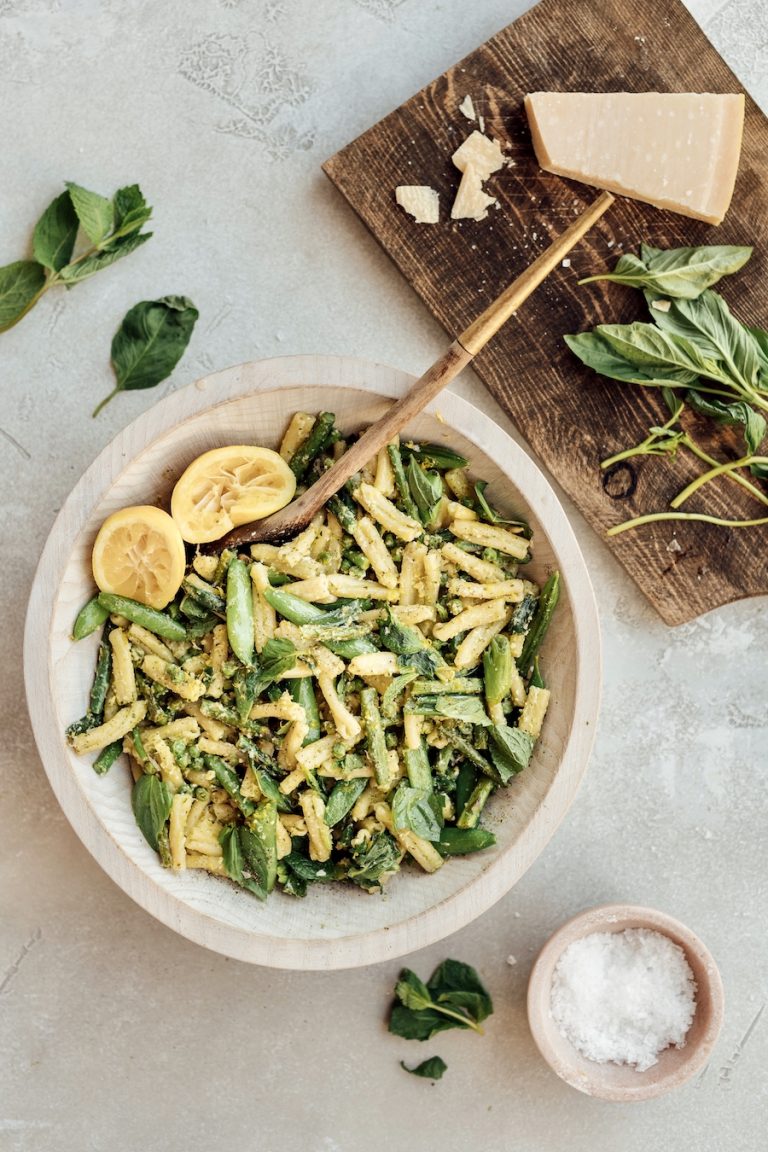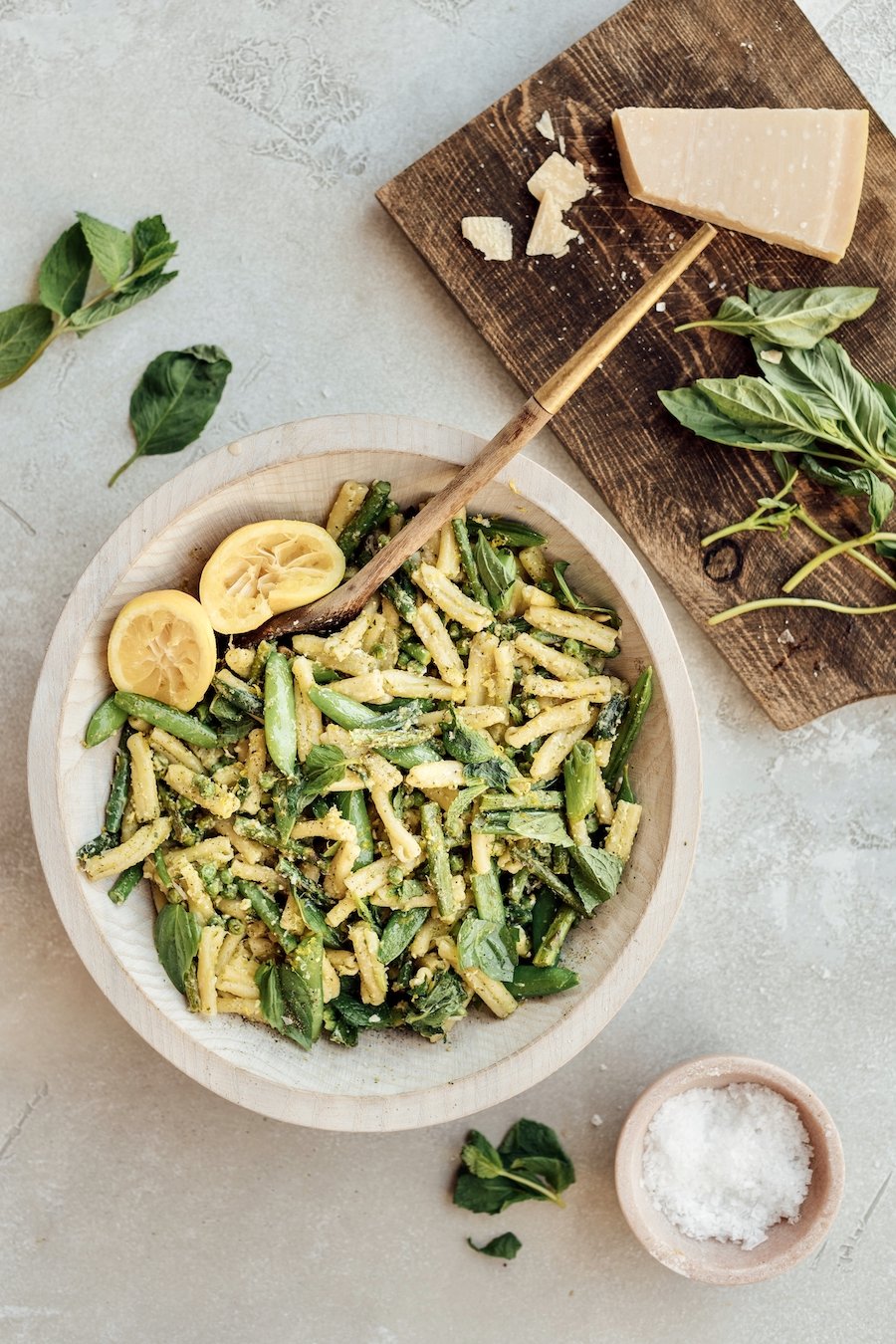 Why We Love It: Nothing says spring quite like peas and asparagus. Paired with one of our favorite pasta shells, this recipe will take you straight to flavor town.
Hero Ingredient: Tahini is the surprising creamy centerpiece that ties this pasta together. Spoon up a plate and take this light pasta to the patio to enjoy with a chilled glass of white. It just screams spring.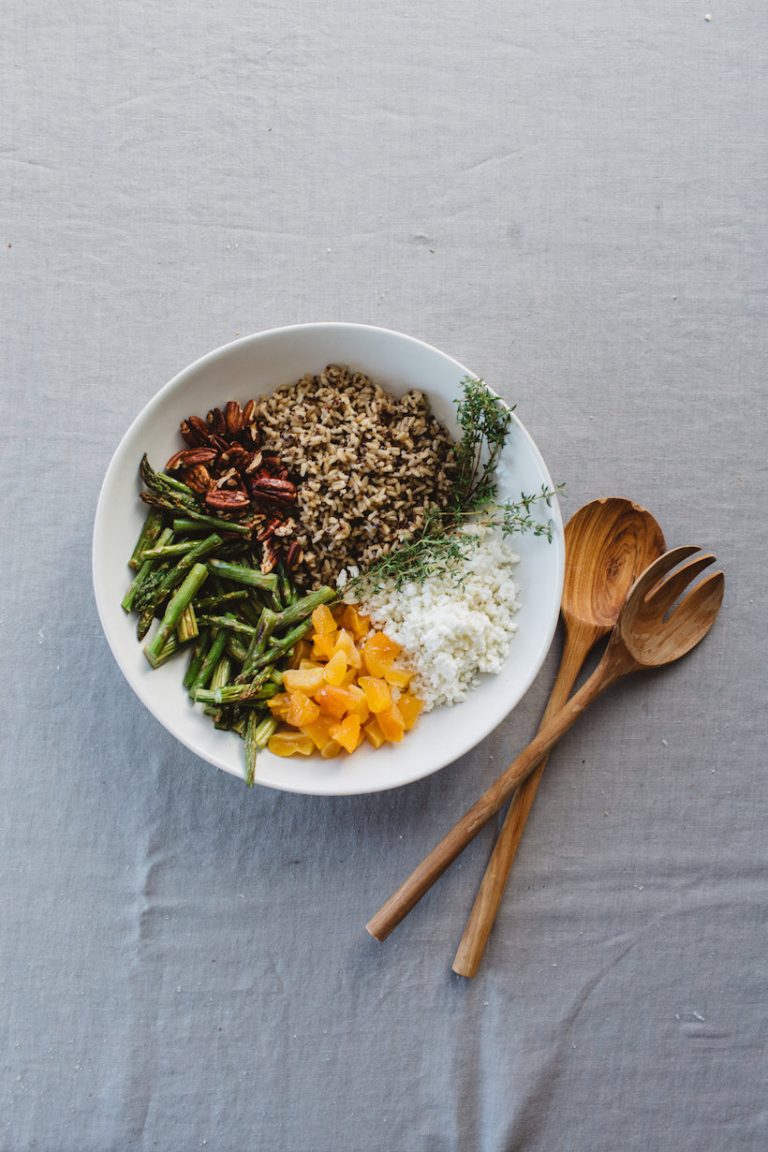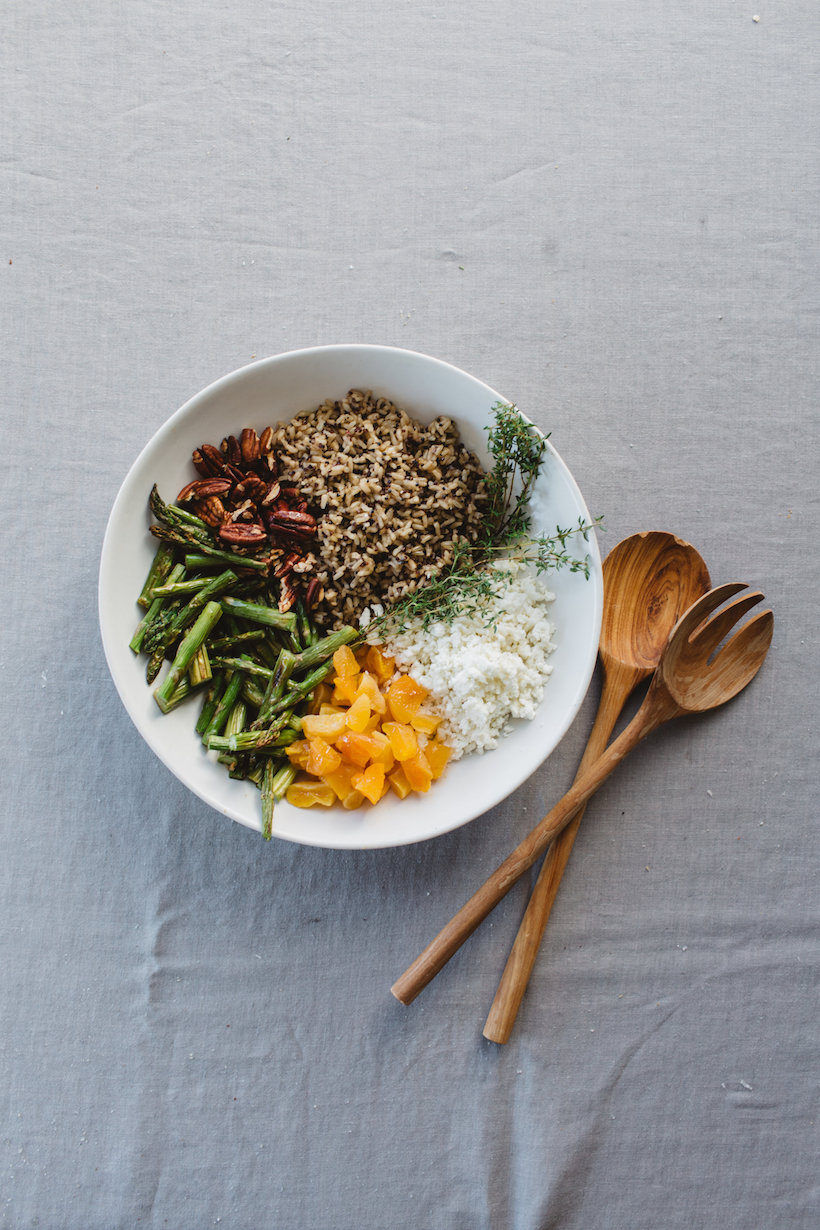 Why We Love It: Black rice paired with crunchy almonds and asparagus spears is a textural match made in heaven. Drizzle with some good olive oil and add lemon juice for a zesty touch.
Hero Ingredient: Roasted and salted almonds bring all the crunchy texture.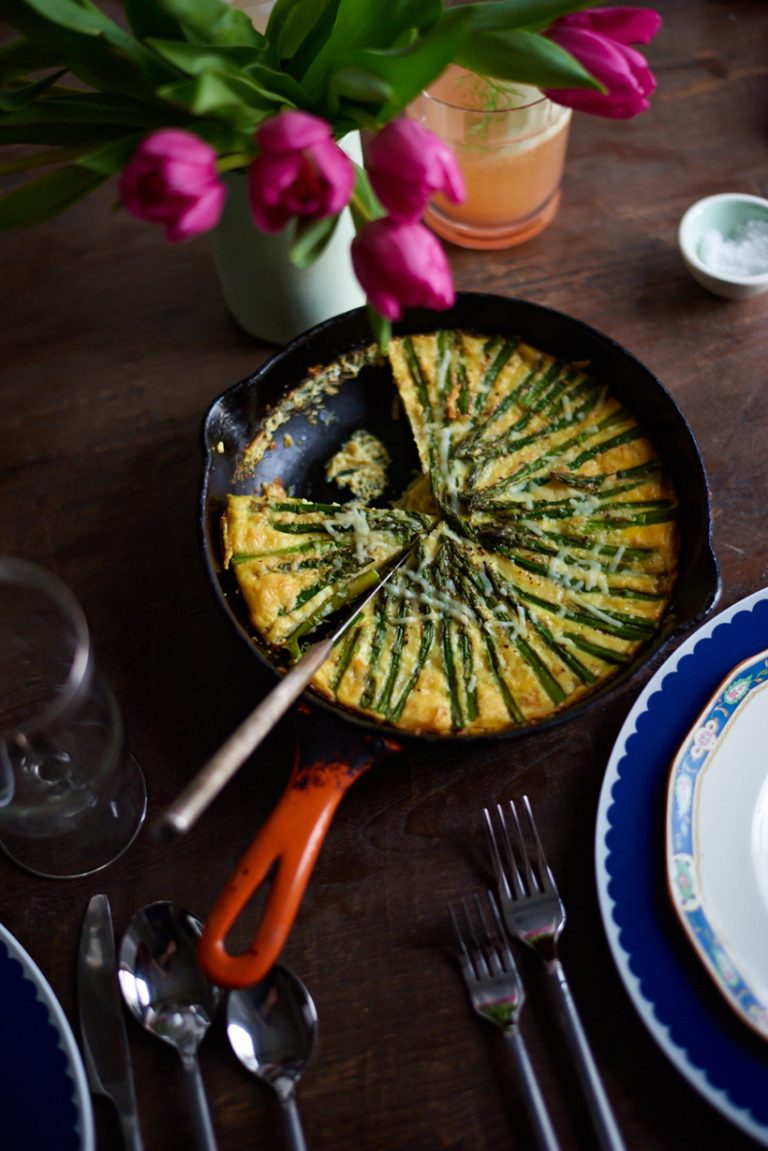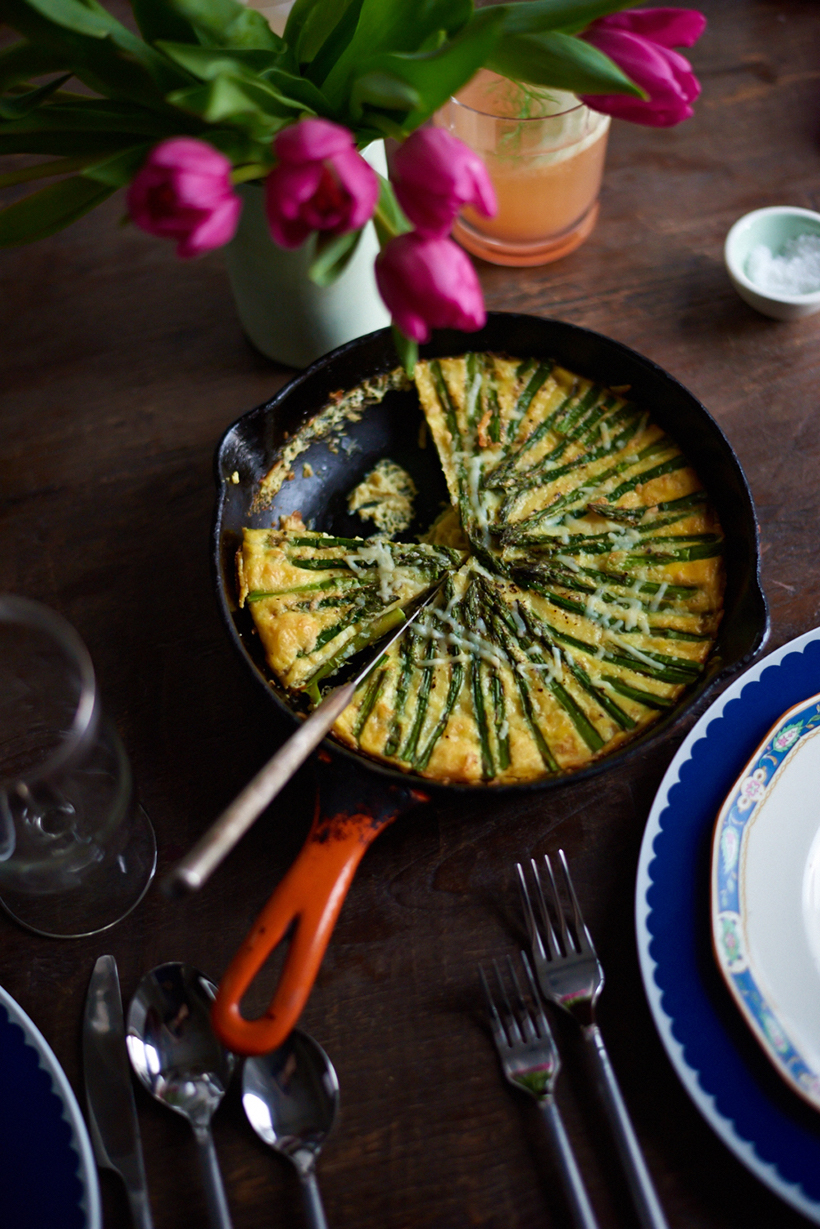 Why We Love It: Frittatas are the easiest way to make the most of the season's produce—and to clean out the vegetable crisper before anything goes bad. This simple six-ingredient dish pairs fresh asparagus with nutty gruyere for the perfect spring dinner. Pair with a green salad and a crisp glass of wine for the ideal weeknight meal.
Hero Ingredient: Mild and creamy, gruyere was made for frittatas.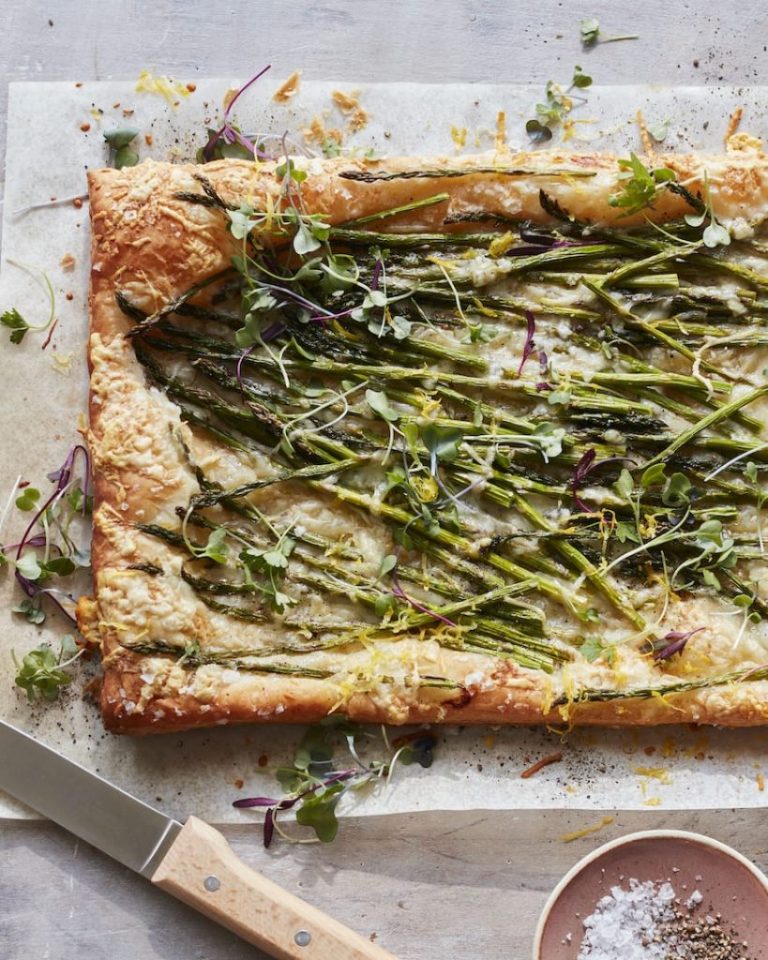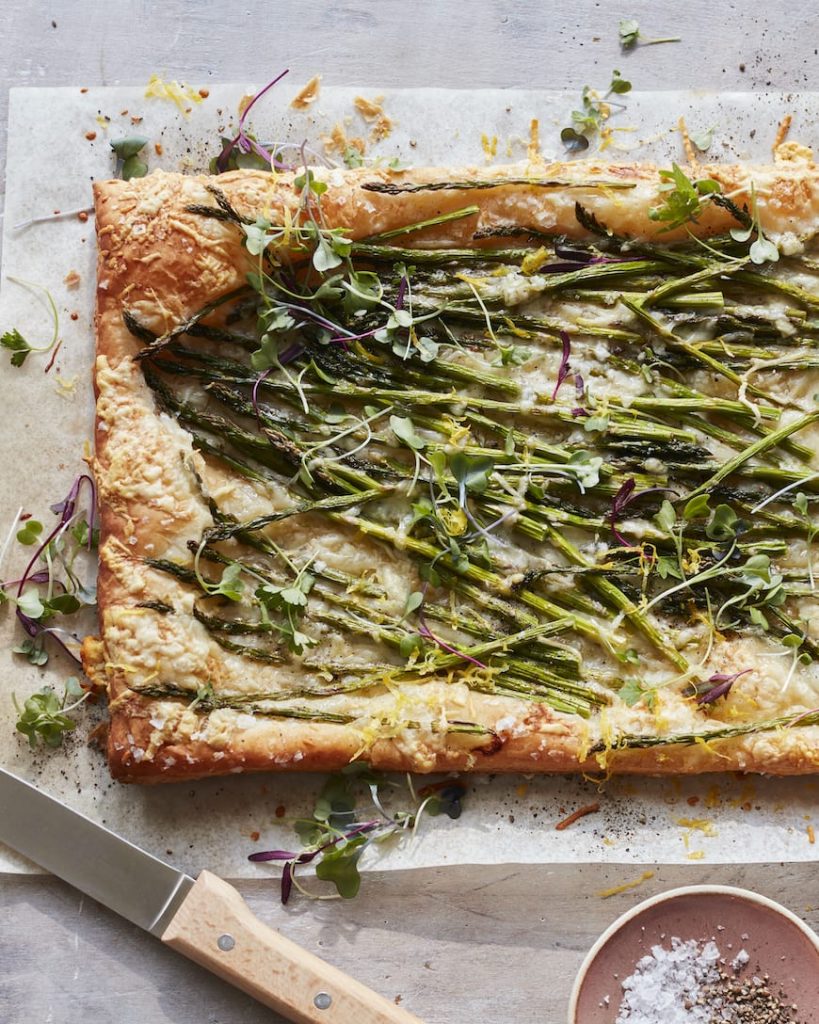 Why We Love It: We're all about sweet tarts, but this savory version has us rethinking them altogether. Try it and taste the difference for yourself. I guarantee you'll be back for seconds.
Hero Ingredient: Store-bought puff pastry lets this tart come together in no time. It's perfect for a quick appetizer, lunch, or light dinner.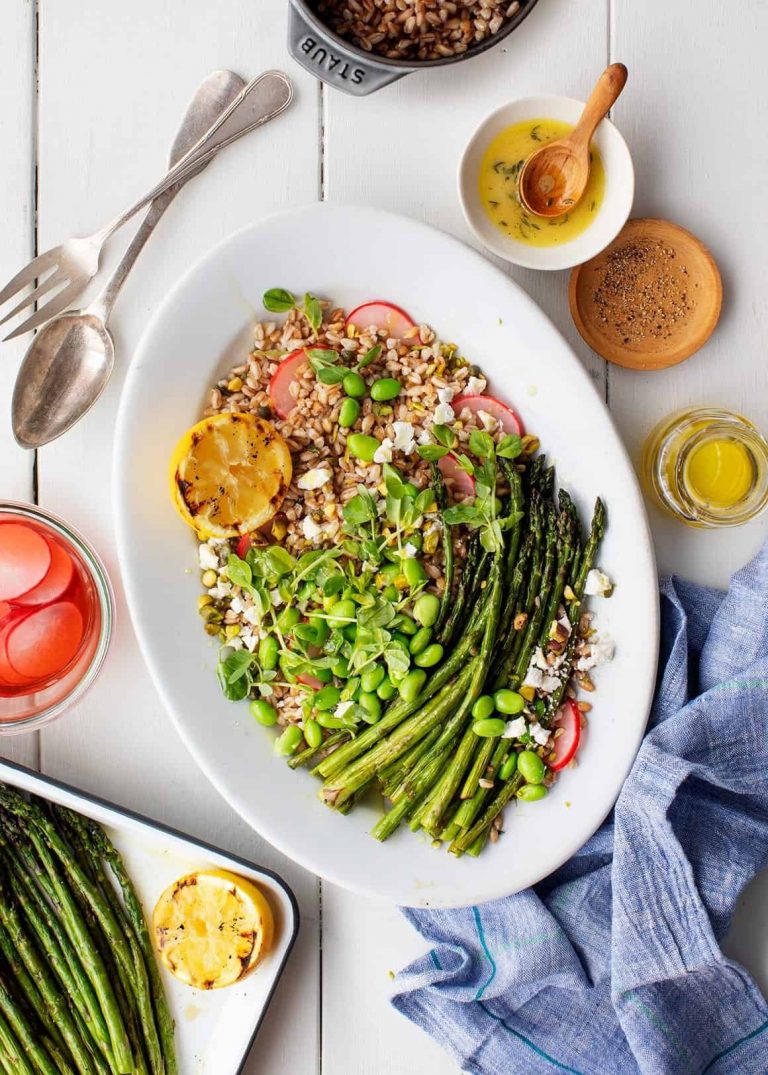 Why We Love It: All of spring's bounty, all in one dish. The creamy Dijon dressing takes it to the next level.
Hero Ingredient: Never doubt capers' briny beauty. They're the tart and salty hero of this salad. Sprinkle them on generously.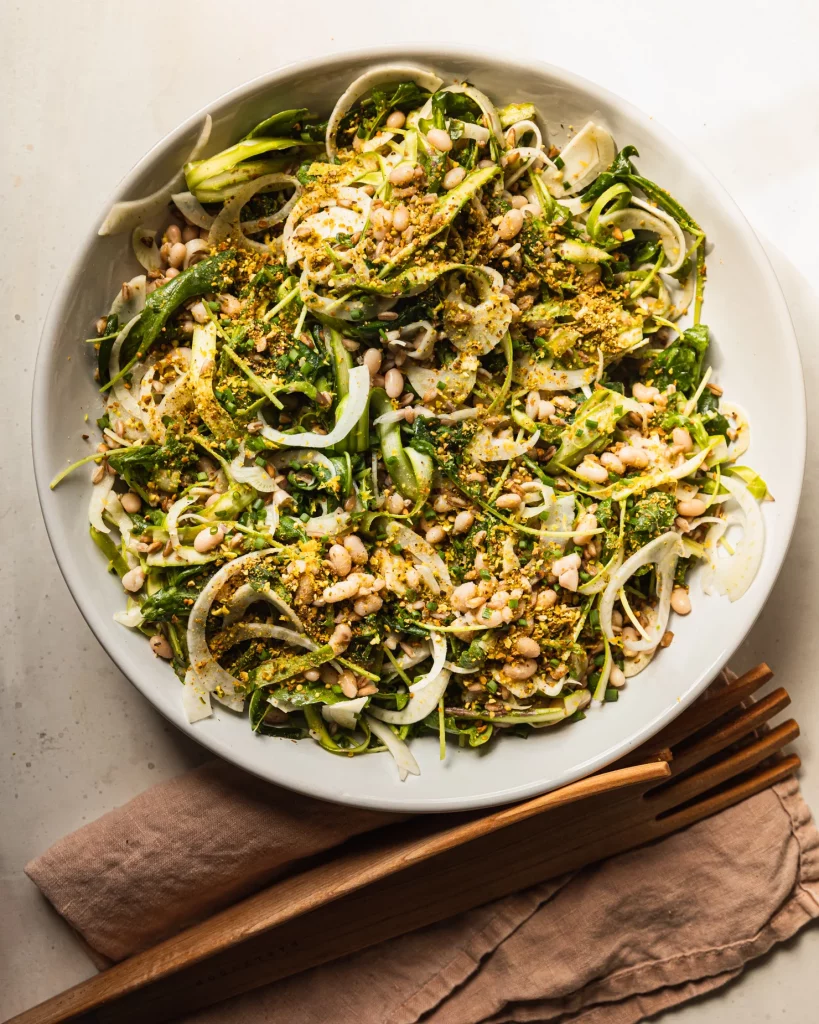 Why We Love It: This salad is proof of asparagus' endless versatility. Fresh, thin wisps of asparagus and fennel are made extra hearty mixed in with farro, white beans, and ground pistachios. It makes for a lovely light lunch or works as a tasty side to any main dish you're serving this spring.
Hero Ingredient: Bits of salty pistachios in every bite? Yes, please.
This post was originally published on April 17, 2015 and has since been updated.