There's nothing like a new wellness trend to reinvigorate our love of health and self-care. With the theme of novelty inspiring many of our 2023 intentions, we're seeking new adventures and tools to support our pursuits. In an effort to always be growing toward our most vibrant selves, we're happy to vet the latest and greatest. But… that comes with a disclaimer. With new health products emerging every day, it's important that we do a little digging before going all in. To help you clear the clutter and navigate the noise surrounding splurge-or-skip wellness products, I put some of the top trends to the test.
Featured image by Michelle Nash.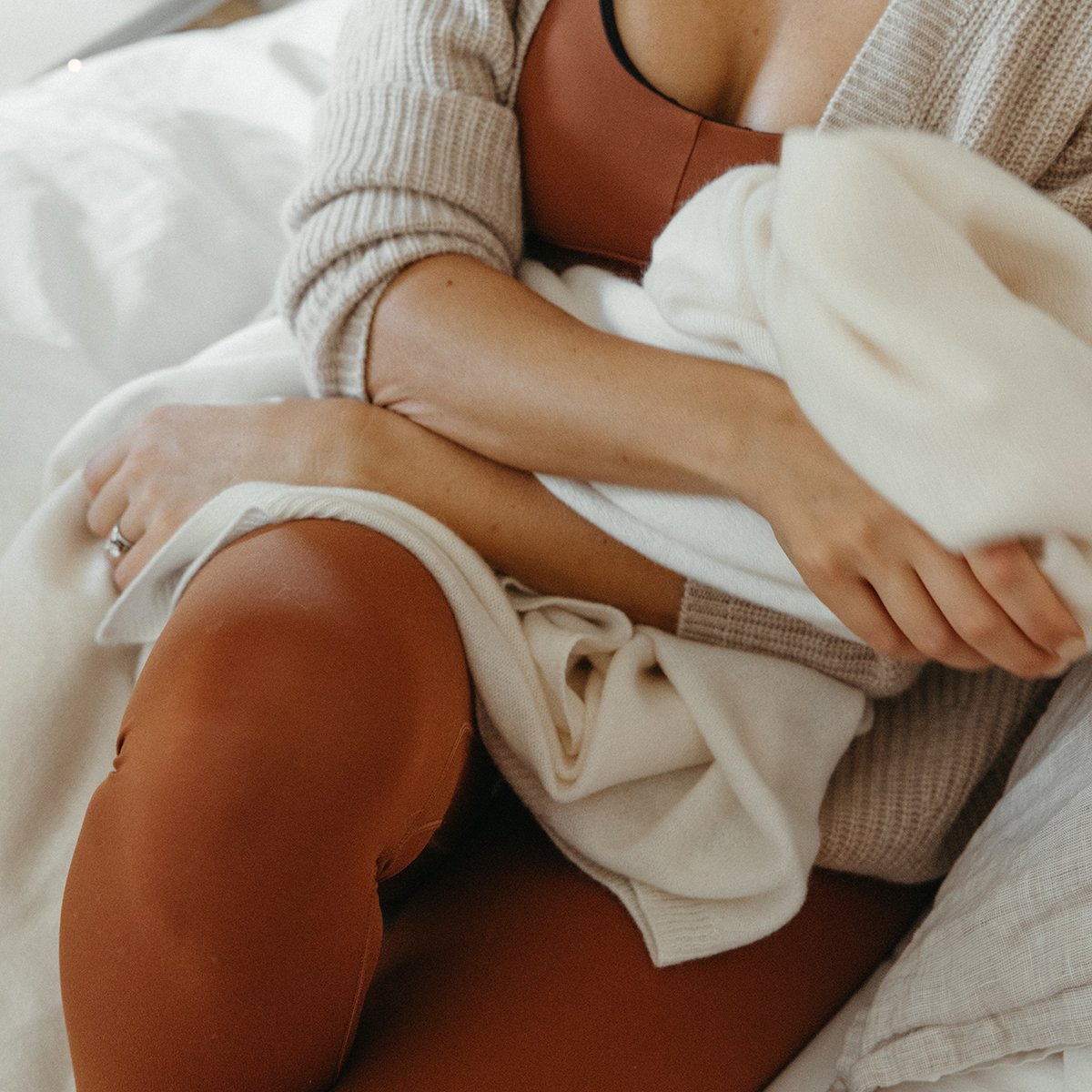 Subscribe
Sleep well.
Sign up to receive a FREE E-BOOK with 12 steps to your best sleep ever.
Thanks for Signing Up!
Oops!
Looks like you're already signed up or your email address is invalid.
Oops!
Looks like you unsubscribed before click here to resubscribe.
Splurge or Skip: Wellness Edition
When you scroll through this list, you'll find that you've seen many of those products before. And that's kind of the point. Wellness has blown up on social media over the past decade, and now more than ever, the trend cycle is delivering us products at rapid speed. So whether you're *this close* to trying Athletic Greens or Sami Clarke's infectious energy inspired your FORM free trial, you'll get the dirt on whether to splurge or skip the following wellness trends.
I was about to jump in and call this an immediate yes—but then I remembered my first few weeks drinking the stuff. And readers, it was hard to get it down. Plenty of friends and wellness influencers claimed to love the vanilla flavor, but I found it way too sweet. It was slightly fruity and honestly had a bit of a tropical tang to it. But determined to fall for the green powder's alleged magic, I persevered. And while that did involve a few nose-plugged chugs, I began to get the hang of it.
Then—surprise of all surprises—I began to like it… crave it even. OK, not so much the taste, but the sustained, all-day energy that my coffee could never give me. That, combined with the fact that we're getting 75 vitamins, minerals, and whole-food-sourced nutrients in just a single scoop, well, call me convinced. I've been going strong for about seven months now and have no plans of looking back.
Disclaimer: A monthly AG1 subscription is going to set you back. We're looking at a 30-day subscription for $79 (that's for the single pouch packaging, travel packs are $89). On top of that, I paid $9 in shipping, which my millennial self did a double-take at when I saw it calculated into the cost breakdown. Final conclusion? If it's within your budget, AG1 is a solid investment in your health and a fun daily routine that'll help you start every day with energy.
When it comes to my workouts, I'm a bit of a chameleon. I'll go hard on barre for a few months then pledge my allegiance to pilates. (The cycle continues until I've tried about every buzzy workout there is.) It's fun to keep my body guessing and I love challenging myself with new choreography, workout formats, and postures. This habit is what led me to FORM. Well, to tell the whole story, I fell down the rabbit hole of wellness inspiration that is Sami Clarke's Instagram and was captivated by her workouts that fell at the perfect intersection of fun, sweaty, and—most importantly for me—support the mind-body connection.
I won't sugarcoat it: these workouts are hard. But they're also designed to efficiently work your entire body to help you get stronger and build balance. After about a month of FORM, I've already noticed how much more aligned I feel in my body. My posture has improved and my recovery time in between workouts has lessened (i.e., your girl is wayyy less sore on rest days). Overall, it's a smart workout that I can see sticking with for the long run. Plus, there's an amazing online community of participants excited to cheer each other on.
I initially invested in one of these alarm lights because I hated having to bring my phone with me to bed. (I'd say I was setting my alarm when I was really checking Instagram, email, TikTok… way too tempting.) I had gotten solid reviews not only from a few favorite podcasters but also from my sister who's notorious for sleeping through her alarm. She loved that it was a gentle way to wake up. With the Hatch Restore, you're nudged awake with a gradual sunrise in your bedroom accompanied by sounds like birds, meditative music, and chimes that are a far cry from the harsh alarms our phones let us select from.
But my favorite part about it? I love that the light also makes your bedtime more of a gentle, restful experience. You can choose from sleep time music, guided exercises to help you wind down, and sleep stories that remind me of when my parents would tuck me into bed. Plus, as someone who shares a lofted one-bedroom apartment with her partner (who loves staying up late watching sports), I appreciated the backgrounds sounds that I could play to drown out the noise of the television.
For all that you get with the Hatch Restore, I couldn't recommend it enough. If you're someone who also struggles with staying off your phone when it's in the bedroom, this is the best solution I've found for getting restful, restorative sleep.
The Bala Bangles first hit my social feeds way back even before the pandemic. A favorite wellness influencer was wearing them for all of her power walks through Portland. I loved how she styled them with her complementing pastel matching sets—a fun 2019 throwback. But it wasn't until quarantine hit and often my only means of fun was a long walk outdoors. Missing my studio workouts and not yet having hopped aboard the at-home fitness train, I wanted to get a little more from my walks. So, I purchased the one-pound set.
I won't lie—I felt a little dorky at first. See, this was before the bangles *really* capture the zeitgeist and I couldn't help but think that I looked like an 80s workout guru minus the leotard. And truthfully, though I was clocking about five miles a day on my walks, the resistance really didn't add that much for me. (In hindsight, I could have gone up to the two-pound bangles, but that would have transformed my walks into true workouts—and I just wanted to have my fun. You know, indulge in my budding birding hobby.)
When it comes to the Bala Bangles, they're only worth it if they match either your current workout routine or support how you want to incorporate movement into your everyday life. The brand does have its own workout platform with routines designed to make the most of the props. So if that's your speed, go all in! But I find that in my normal workouts, I get enough resistance kicking it classic with my hand weights.
I'll be straight with you: I kind of hate to write this because I've heard this supplement has truly changed other people's lives, but from my two-month experiment with Ritual Synbiotic+, I didn't notice any improvements in gut health or digestion. Those 60 days fell between late October and December—I'll admit, with the regular indulgence, it wasn't the best time to begin any health experiment. During that period, I was feeling a little… backed up and was sick with a stubborn cold more days than not. (And that was even with daily bone broth and ginger-turmeric shots.)
But given that it was the beginning of cold season (obvi) and I was traveling more days than I was at home, it was understandable that I wouldn't be feeling my best.
With all of that to contextualize my experience with Ritual Synbiotic+, I can't make a solid conclusion either way. But as for the facts, this 3-in-1 prebiotic, probiotic, and postbiotic contains a blend of two of the world's most clinically-studied probiotic strains to support gut and digestive health. The science is there, but anecdotally, I wasn't convinced.
I won't keep you guessing: I am obsessed with my Five Minute Journal and believe it's worth every (very affordable) penny. You've probably seen it in varying shades all across your social feeds, often a crucial part in the 'that girl' morning routine Reels and TikToks. While I take anything that's lauded by the social wellness elite with a grain of salt, I couldn't be happier with this purchase.
If you're scared of a blank page when it comes to journaling (same!), this guided journal is your simple, straightforward answer. You'll start each day with thoughtful prompts, challenges, quotes, and affirmations, with space to share your gratitudes each day. It's the perfect tool to help you engage in self-reflection and a great jumping-off point to help you kickstart your journaling practice.
I got my Beast Blender last January when I was living the (not-so-ideal) digital nomad lifestyle hopping between cities and airbnbs. With just a suitcase in tow, it felt silly (re: incredibly impractical) to purchase such a large kitchen appliance. But… I had seen my favorite influencer using her new and shiny aesthetic blender in her aesthetic kitchen. So of course, I fell prey to this not-so-sneaky form of marketing.
Though the beginnings of my love affair with my Beast Blender were born out of perhaps less-than-solid judgment, I'm happy to say that she now has a home in my Chicago apartment. And for smoothies, soups, and other puréed delights, she's a total dream. My Beast is my go-to for morning green smoothies and even homemade juices. However, I'd draw the line there. Although I've heard from others that you can make sauces and spreads in your Beast (think: pesto, hummus, etc.), the blender simply doesn't have the power to give you the perfectly smooth consistency you're after. For that, I've added a food processor to the mix. If you really want a single appliance that does it all, spring for a Vitamix.
Of all the splurge-or-skip wellness products included in this list, Eden's is probably the most under the radar. Well, to spoil my review: this gut-supporting supplement should be in everyone's pantry. Contrasted against Ritual Synbiotic+, within two weeks of beginning my Eden's routine, I noticed a considerable difference in my energy and focus, and I experienced much fewer cravings. Whereas Ritual required taking a pill, you simply mix a scoop with 8-10 ounces of cold liquid and sip. I take it after my AG1 every morning (a lot of beverages, I know) and love knowing that I'm supporting my body first thing.
The formula boasts a blend of prebiotic fibers, plant-based antioxidants, and probiotics. And here's the thing: it actually tastes good. With ingredients like turmeric, kiwifruit, lychee, green tea, and monk fruit for a natural sweetener, the supplement is slightly fruity and just sweet enough. I've also mixed it into smoothies and even my morning oatmeal when I'm looking to switch things up.
All of my favorite things I own, I gifted to my mom first. (Sadly, I followed this rule with the coveted Casa Zuma Ritual Mug and didn't snag one for myself before they were all snatched up within days of the restock. Sigh.) But this silk sleep mask—wow. I initially gave it to my mom for Christmas, and as a lifelong insomniac, she was blown away by the blissful 9+ hours of sleep she got that first night.
I've since bought one for myself and love how it blocks out all possibility of light. Not only that, but the silky material feels like a literal cloud over your face. It's a little taste of luxury, but also completely practical. I never anticipate another restless night again. Pro tip: Bring it along for your travels—it's the only way I can manage to sleep on the plane.
I'll be quick with it because I don't want anyone wasting any more money on these tumblers. Just don't. Sure, it's nearly indestructible, holds a ton of water (this particular size boasts 40 ounces), and you'll feel like a part of the social media in-crowd. But who really needs another water bottle? And who really drinks that much water in a single sitting that they couldn't get up to refill it?
Don't get me wrong, the tumbler is well-made, which certainly merits the hype. But if you're not in the market for another water bottle (that costs nearly $80), it's not worth having another bottle crowding your cupboard or desk. I have a feeling we'll be seeing the end of this trend soon. And not to be cynical, but I'll be happy I didn't fall prey to its utilitarian allure.
I've long been curious about these 'bloat' pills but also incredibly suspicious—and frankly a little worried, too. As someone who's experienced an eating disorder, the idea of bloating can be incredibly triggering and also very complex. To be frank: it's that concern that has kept me from buying these pills. But that doesn't mean I haven't looked further into them.
Much of the marketing is done through influencers and podcasters, with creators and hosts sharing that they keep the canister with them at all times in case they eat a meal that doesn't sit well with them. And certainly, bloat is a normal, uncomfortable bodily phenomenon that we all experience from time to time. But that makes me wonder: should we be so quick to rid ourselves of it in pill-form? Or, should we first address underlying gut issues and look more closely at how certain foods impact us?
It's a complex matter, and I have lots of questions. But frankly, I don't think the answer will be found at the bottom of a jar of pills. (Perhaps there's a deep-dive post in our future… )
Every product is curated with care by our editors. If you buy something through our links, we may earn a small commission at no cost to you.