Aaron Rodgers' season started in the worst possible manner. He tore his Achilles on the first drive of his debut with the New York Jets. All the excitement that was built around the Jets for this season was quickly finished as the four-time NFL MVP will be sidelined for a significant period of time.
In the meantime, Rodgers' former team, the Green Bay Packers started the season on a high note. They won their opening game against the Chicago Bears convincingly with a score of 38-20.
Jordan Love exceeded all the expectations in the game against the Bears, and Rodgers recently lauded the young quarterback. He also took a dig at the Bears and brought up the 'ownership' reference again.
" data-lazy="//staticg.sportskeeda.com/skm/assets/promotional-content/2023/nfl/start-sit/desktop_w3.png?h=412″ />

Here's what Rodgers said on the Pat McAfee Show:
"Green Bay quarterbacks have long made the fans of Chicago's days and nights pretty miserable, and I'm happy to see him picking up where I left off. I saw a decent part of Bears game and he played excellent and I was really happy for him."
"I did text J right after the Bears game when they had pulled away. I sent him a message because I wanted him to see it when he got back to his phone and congratulated on keeping the ownership in place.
That was pretty awesome for him and I talk to Zach all the time, I love Zach, that's my guy."
In the Week 1 game against the Chicago Bears, Love completed 15/27 throws while throwing for 245 yards and three touchdowns. The Bears struggled massively and lost once again to the Packers.
Whether Love will be able to replicate Rodgers' success remains to be seen, but he is off to a good start.
---
When will Aaron Rodgers return to play?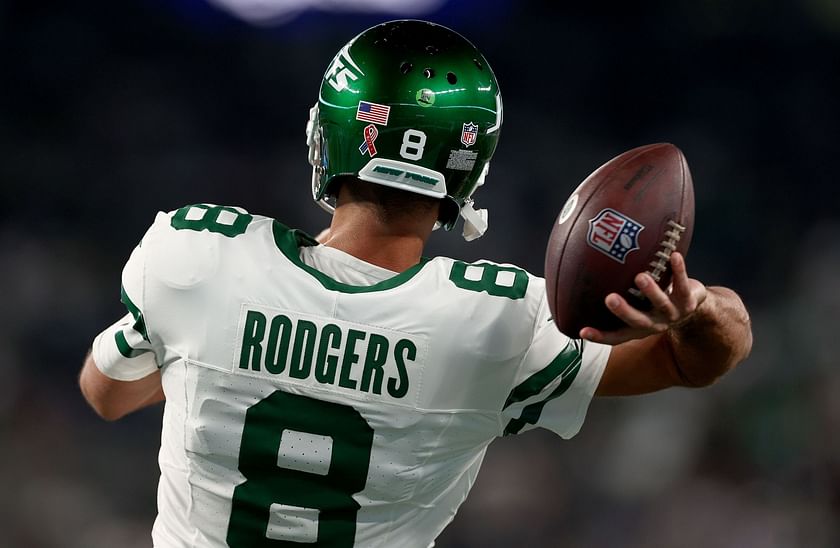 Aaron Rodgers has already had surgery for his Achilles tear and is optimistic about his return to football. While earlier it was expected that the start quarterback would be out for the entire season, Rodgers hasn't ruled out a return this season.
Last week on the Pat McAfee Show, Rodgers said that he might play this season if the New York Jets make the playoffs. However, with how Zach Wilson has played so far, it seems unlikely that the Jets will make the playoffs in a stacked AFC.
Nevertheless, it will give more time to Rodgers to recover, and hopefully, he'll be at his best next season.
---
If you use any of the above quotes, please credit the Pat McAfee Show and H/T Sportskeeda.
Edited by Abhimanyu Chaudhary